Spanish
Overview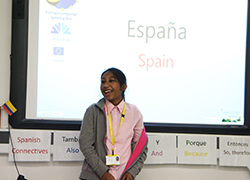 Learning Spanish at EGA is extremely interactive and students are encouraged to be independent, creative and reflective learners.
The Spanish Department strives to encourage students to develop confidence in using languages and in developing their study skills to make their language learning experience worthwhile.
All students will develop an understanding of how language learning can bring global communities closer together and create a deeper understanding of other cultures.
Spanish at Key Stage 3
Year 7 and 8 students have 3 Spanish lessons per week, and they will be working towards taking their Language GCSE in Year 9, which is a really exciting opportunity.
Your daughter/ward will be set homework on a weekly basis and we will inform you of their progress. Good work and behaviour are praised and celebrated through regular small rewards consisting of stickers, stars and merits.
Each student has a Spanish ICT lesson where they can explore and practise their language skills further using a variety of online resources. Students also reinforce their language learning by completing challenging exercises online on www.vocabexpress.com, www.linguascope.com, www.memrise.com and www.languagesonline.org.uk .
All students are assessed after each unit on one or two skills and there is an end of year exam in the summer term which will assess all skills (listening, speaking, reading and writing).
Year 7
In Year 7, the theme is "My World" which encompasses basic vocabulary, giving opinions, talking about self and family, school, incorporating grammatical skills which will help them create their own "TRACTOR" pages to encourage all students to recycle language and use what they know to develop their ability to write and speak independently without support.
Click here to to see what "TRACTOR" stands for.
Year 8
The theme in Year 8 is "Holidays" and "Leisure." Students will continue to develop their understanding of tenses by discussing previous and future holidays, as well as normal holiday practice. They will study countries, capitals, weather, different forms of transport, recipes from the target country and eating out. They will develop their research skills by finding out about other countries' traditions, culture, language, food, activities and way of life. They will continue to develop skills in listening, speaking, reading and writing and consolidate the use of the different tenses. Students will also continue to work on their "TRACTOR" pages to further develop their language skills and the ability to manipulate language using different tenses from memory.
Study at Home for KS3
Students are actively encouraged to purchase a dictionary for the language they study and teachers recommend regular sessions at home working on www.vocabexpress.com,www.linguascope.com, www.memrise.com, www.linguascope.com and www.languagesonline.org.uk
Click here to find out: What's next in Languages?
Spanish at Key Stage 4
Year 9
The GCSE course in Spanish is a one year course and students will have five/ six lessons of Spanish per week.
At the end of the course, in May/June 2018 students will have exams in all of the FOUR skills, (Listening, Reading, Writing, Speaking)which are worth 25% each.
The GCSE course consists of three themes:
Theme 1- Identity and Culture
Theme 2 - Local, national, international and global areas of interest
Theme 3 - Current and future study and employment
Click here to see the Spanish GCSE syllabus in detail
In the spirit of the EGA community, current Year 9 students have compiled a list of "Top tips" to prepare the new Year 9 Spanish students for their GCSE and to advise them on strategies and revision techniques that were useful for them.
Click here to see the list of "Top tips"
Study at Home for KS4
Students are encouraged to complete vocabulary learning exercises on www.vocabexpress.com, and www.linguascope.com, www.memrise.com and www.languagesonline.org.uk an excellent resource for practising the 3 tenses and other grammatical points. Also www.español-extra.co.uk is excellent for both vocabulary and grammar.
Recent Events
Biannually Vocab Express host world-wide competitions in a variety of languages, The League of Champions and The Global Challenge. In September 2015 one of our students won the League of Champions world competition in Spanish with a score of 100, 170 points, a score never previously achieved! There is also an annual Spanish Spelling Bee competition run by Capital L, Routes into Languages for all our Year 7 students. It is an excellent experience for all involved and three of our girls made it through to the Regional Finals in March 2016. Congratulations to all!