Helping Your Daughter with her GCSE Exams

Bengali

Somali

Arabic

Turkish

Chinese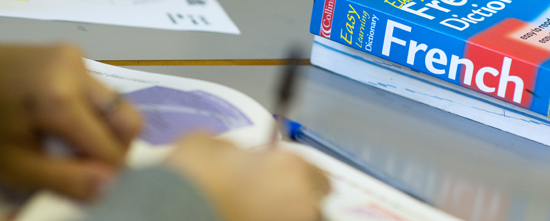 GCSE examinations can be a worrying prospect for your child and she will be under a great deal of pressure with coursework deadlines and examination preparation. Parents/Carers may find it difficult to support their children through this time. This parent guide is a list of possible strategies that may help you with this support.
Please ensure that you:
• Ensure that your child attends school regularly and on time;
• Talk to your daughter about her learning, work she has to do and deadlines;
• Contact your daughter's tutor if you have any questions or concerns about your daughter;
• Attend Parents' evening;
• Check your daughter's revision timetable for mock exams which are in December;
• Check your daughter's examination timetable and ensure she understands when her exam take place;
• Read your daughter's copy of the Summer Examination Timetable;
• Attend all meetings and workshops organised for parents to assist their children with GCSE work.

How to help your child during exams
Ask your daughter to go through her Test results and projected grade for each subject.

Support her organisation by knowing when her exams are and being punctual

Make a study plan (timetable) with your daughter and monitor how she is following it.

Praise and encourage.

Make sure that your daughter eats well, takes breaks and sleeps before 23:00 every night.

Observe and talk to your daughter to ensure her mental well being.

Don't hesitate to contact the school for support, if you need it.

Support your daughter in ensuring they complete their teacher improvement statements in their report.
Coursework
Students will have many deadlines to meet during this year.
You can help your daughter by:
• Monitoring her coursework. Find out what she has to do and when it has to be handed in;
• Making sure she is doing some work every evening;
• Contacting her tutor if she says she has no work to do, or if she is worried about a piece of work;
• Encouraging her to attend clubs, half-term, Easter, and Saturday revision classes;
• Encouraging her to buy study guides;
• Encouraging her to use the numerous websites available to support her coursework and revision e.g. http://www.bbc.co.uk/schools/ks4bitesize/english;
• Encouraging her to go on curriculum based school trips.
Practical Support that you can offer:
• Provide her with a quiet place to study;
• Make sure she takes regular breaks;
• Ensure that she eats healthy food and drinks plenty of water;
• Test her on the work she has been revising or encourage older siblings to test her;
• Ensure that she goes to bed at a reasonable time and gets enough sleep;
• Ensure that she revises thoroughly for both the mock and final examinations.
You can contact your daughter's tutor/head of year if you wish to discuss any GSCE related issues.