Citizenship
Overview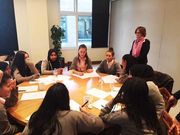 Citizenship education allows pupils to develop knowledge and understanding of the role of politics in relation to current issues that impact on modern society. It engages them with what it means to be an active citizen and prepares them for the next step in today's globalised world.
Citizenship education is statutory in all state maintained schools, and at EGA, KS4 Citizenship is currently delivered through the year 9 skills programme. During these sessions, pupils are challenged to engage in discussions about our global communities and to develop critical thinking skills and skills of enquiry.
From September 2017 we will be teaching the Edexcel new specification full course GCSE in Citizenship. This option will be beneficial to those students who have an interest in current and historical political issues, and those who may which to study history, law or politics at a higher level post 16.
In this course pupils will be exploring ideas in depth around:
Theme A: Living in the UK
Theme B: Democracy at work in the UK
Theme C: Law and Justice
Theme D: Power and influence
Theme E: Taking citizenship action.
Citizenship at KS3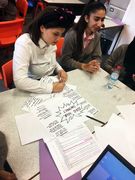 At KS3, Citizenship Studies is taught within the PSHE curriculum. In year 7, students look at issues around identity and community as part of their extended project.
In year 8, Students complete a unit of work on Parliament and Democracy and are assessed at the end of this work. The year 8 extended project also focuses on issues of democracy and the rights of citizens.
Study at Home for KS3
Folens – Citizenship and PSHE (Books 1-3)
Collins – Your Life (Books 1-4)
Study at Home for KS4
Citizenship Today (Edexcel endorsed textbook)
Collins Revision – GCSE Citizenship
Recent Events
EGA School students participation In the first youth voting initiative – Bite the Ballot (February)
Forthcoming events – Trips to the Royal Courts of Justice for GCSE Citizenship (September)