Food Preparation and Nutrition
Overview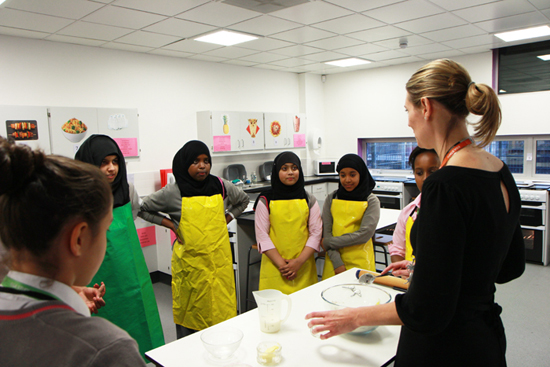 The aim of the Food Preparation and Nutrition department is to provide each and every student the opportunity to develop a knowledge and understanding of a broad range of practical skills, techniques and recipes. Food Preparation and Nutrition is a popular subject and students are provided with an opportunity to be creative and independent. Students can explore their creativity in cooking and preparing a variety of dishes. Cooking and healthy eating is an important life skill and Food Preparation and Nutrition is focused on preparing healthy dishes safely and hygienically. Students will explore healthy eating and balanced diets and will learn about the nutritional needs of different groups in society. Students will learn how to adapt basic recipes for different target audiences and social groups. The study of making will also include the characteristics of a broad range of ingredients, including their nutritional, functional and sensory properties.
Curriculum Content
Key Stage 3 (if taught at Key Stage 3)
In KS3 pupils learn a broad range of basic cooking skills as part of life skills. Pupils will spend 15 lessons in Food Technology in each year group. In year 7 students will study fruits, vegetables, food groups mixing methods and environmental issues in food production. Practical work includes vegetable soup, herby scones, fruit crumble, pasta salad, bread, vegetable pizza, pesto and tomato tarts and egg poppers. In year 8 students will study bacteria, temperature control, nutrients, special diets, sustainability, ethical issues in food production and how to read food labels. Practical work will include chicken fajitas, korma curry, tuna pasties, vegetarian lasagne, victoria sponge cake, berry cheese cake and a design and make task.
Study at Home for KS3
Recommended books, websites and other resources.
Pupils will be given books at the beginning of each Food Preparation and Nutrition carousel. Pupils will be expected to adapt school recipes for practical work.
www.jamieshomecookingskills.com
GCSE Assessment Components
In KS4 we follow the AQA Food Preparation and Nutrition specification.
Non exam-assessment 50% of final grade (this includes practical work)
Written exam 50% of final grade
The following topics/projects are covered: Nutrition and Health, Food Science, Food Safety, Food Choice and Food Provenance. Students will focus on two non-exam assessment tasks determined by the AQA:
Food Investigation - students understanding of the working characteristics, functional and chemical properties of ingredients.
Food Preparation Assessment - students knowledge and understanding in relation to the planning, preparation, cooking and presentation of food and nutrition.
Study at Home for KS4
Recommended websites
www.jamieshomecookingskills.com
Revision Guide
GCSE Food Preparation and Nutrition for AQA (Grade 9-1)
ISBN 978 1 78294 649 6
Contact
Please contact the Head of Food and Nutrition, cornelia.debruin@egas.islington.sch.uk, if you would like more information about the course.