Economics
Overview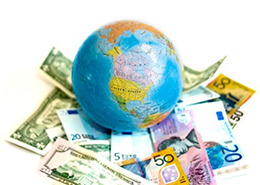 Economics is about choice and the impact our choices have on each other. It relates to every aspect of our lives, from the decisions we make as individuals or families to those taken by governments and businesses. It is about scarcity and the problem of resource allocation. You will learn economic theories and develop your ability to apply the knowledge you gain to real life situations at a local, national and global level. Economics fits well with Sociology, Geography and History. It involves the interpretation and use of data, so you get to use your maths skills although you are also required to write extended prose answers where you make judgements and justify them.
You will follow the OCR Specification and the course will be divided into three units. All three units are externally examined in separate exams but the final unit will carry the same weight as the other two combined. The questions in the final unit are based on pre-release stimulus material.
Assessment Components
Introduction to Economics (J205/01)
This unit introduces you to the fundamental economic terms and concepts. You will apply these to investigate and explain how markets work in contemporary and historical economic contexts. You will also study the different roles and perspectives of the main economic agents (consumers, producers and the government) and how they interact in the economy.
80 Marks
1 hour 30 minute written paper
50% of total GCSE (9–1)
National and International Economics (J205/02)
This unit provides you with an understanding of the main economic objectives and role of the government in achieving them. You will investigate the effects of economic policies on markets. You will also use and interpret quantitative evidence, such as unemployment figures, in contemporary and historical economic contexts.
You will learn of the importance and impact of international trade by analysing data such as quantitative information on exports and imports.
80 Marks
1 hour 30 minute written paper
50% of total GCSE (9–1)
In studying Economics you will:
Develop as an effective and independent learner
Use an enquiring, critical approach to distinguish between fact and opinion, build arguments and make informed judgements
Apply your knowledge, understanding and skills to understand current events in a range of local, national and global contexts
Understand the perspectives of a range of different stakeholders in relation to economic activity
Consider the moral issues that arise as a result of the impact of economic activity on the environment and economic development
Study at Home
Text Book – Heinemann Publishers – OCR Economics by Bancroft and Chapman
This link takes you to bite size homepage. Pick Business Studies and access notes and short tests.
www.bbc.co.uk/schools/gcsebitesize/
Tutor2u have lots of good notes. If you investigate the site you will find other revision tools.
Bized again has loads of good notes and materials. The resources are more geared up to A level students, but they are a good reference source.
www.bized.co.uk
Watch the news, look at the BBC news website and read newspaper articles on current economic issues.
Ways for parents to support learning
Contact
Please contact the Head of Economics, paul.clifford@egas.islington.sch.uk, if you would like more information about the course.