Latest News
Posted on: 08/05/2019
Islington Schools Athletics
On Thursday 2 May, EGA was represented by Year 7, 8 and 9 at the 2019 Track and Field Championships at Finsbury Park, along with City of London Academy Highgate Hill, St Mary Magdalene Academy, Arts and Media School Islington and Highbury Grove. On the track, girls participated in hurdles, 100m, 200m, 800m, 1500m and 4 x 100m relay and on the field they took part in discus, long, high jump, javelin and shot putt. They did particularly well in the field events coming away with gold in all field events. A huge congratulations to the team:
Year 7: Vera Heatherwick, Jade Reed, Jasmine Reed, Yasmin Abdulrahman Ahmed, Jamie Lee Ritchie, Natalia Szmiga Smith, Randa Nour, Ava Jayne Mogaji, Layla Pouget, Serenite Isugapala;
Year 8: Cedra Salhi, Yuki Oyesiku, Leah Lipsey Swarbrick, Rosa Brennan, Angel Gillam, Nergis Bulut, Sasha Harrold, Holly Braham;
Year 9: Cekayi Cameron, Elyse Duncan Brown, Abigail Fernandez Bold, Khya Dillon, Jaime Ibyunga, Aline Gahime, Emily Jo Winkworth, Hermione Kelly.
Thank you for demonstrating dedication, commitment, resilience and good sportsmanship throughout the competition.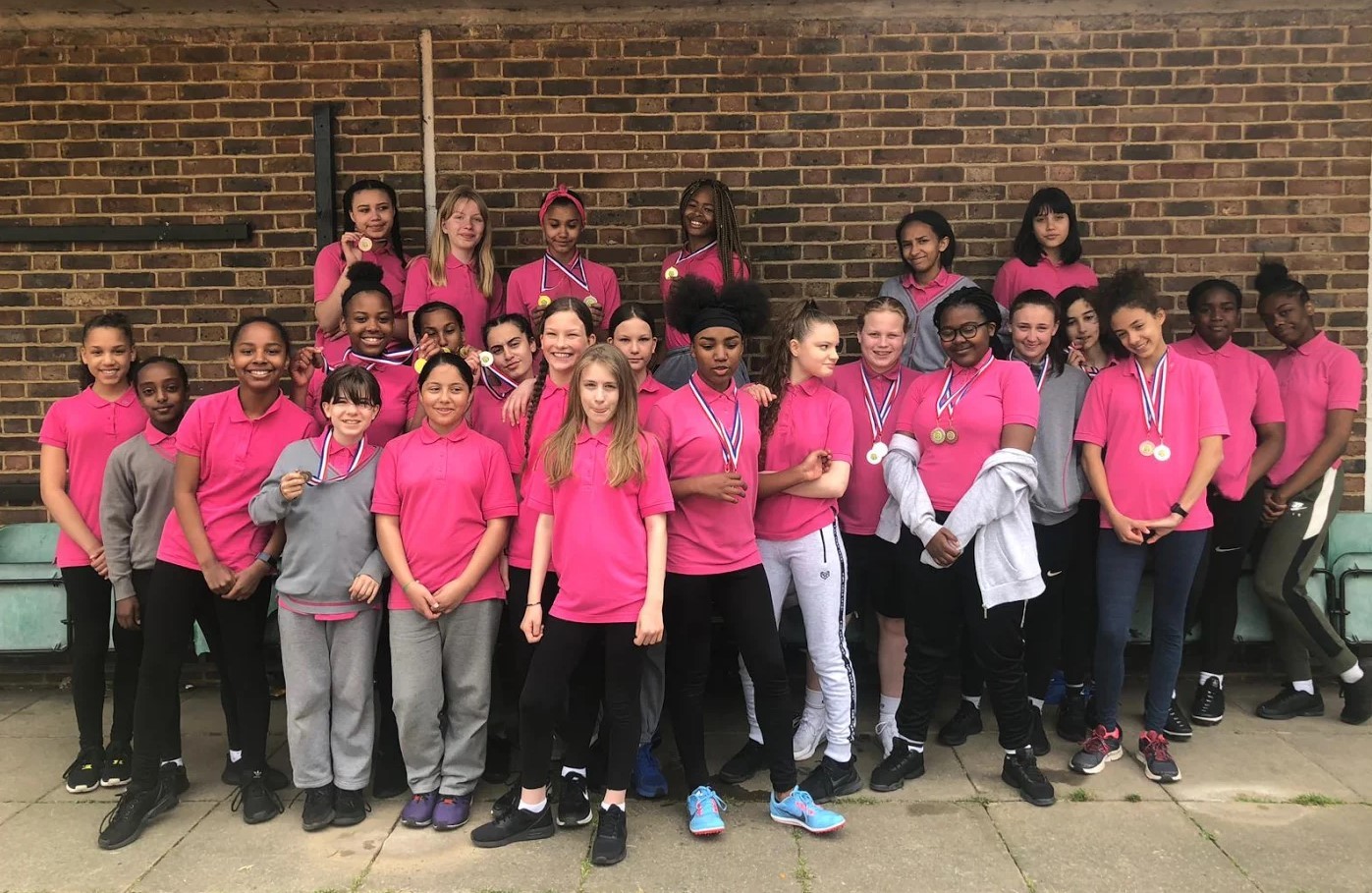 | | | | | |
| --- | --- | --- | --- | --- |
| EVENT | NAME | G | S | B |
| YR 8 GIRLS 75M HURDLES FINAL - 8 at 76cm | Holly Braham | | | 1 |
| YR 9 GIRLS 75M HURDLES FINAL - 8 at 76cm | Aline Gahime | 1 | | |
| YR 7 GIRLS 1500M FINAL | Vera Heatherwick | | 1 | |
| YR 8 GIRLS 1500M FINAL | Yuki Oyesiku | | 1 | |
| YR 9 GIRLS 200M FINAL | Elyse Duncan Brown | | | 1 |
| YR 8 GIRLS 100M FINAL | Angel Gillam | | | |
| YR 9 GIRLS 100M FINAL | Elyse Duncan Brown | | 1 | |
| YR 8 GIRLS 800M FINAL | Leah Lipsey Swarbrick | | 1 | |
| YR 9 GIRLS 800M FINAL | Elyse Duncan Brown | 1 | | |
| YR 8 GIRLS LONG JUMP | Sasha Harrold | 1 | | |
| YR 9 GIRLS LONG JUMP | Elyse Duncan Brown | 1 | | |
| YR 8 GIRLS JAVELIN (600gm) | Nergis Bulut | | 1 | |
| YR 9 GIRLS JAVELIN (500gm) | Emilky Jo Winkworth | 1 | | |
| YR 7 GIRLS DISCUS (1KG) | Serenite Isungapala | | 1 | |
| YR 8 GIRLS DISCUS | Angel Gilliam | 1 | | |
| YR 9 GIRLS DISCUS (1KG) | Emilky Jo Winkworth | | 1 | |
| YR 7 GIRLS HIGH JUMP | Yasmin Abdulrahman Ahmed | | | 1 |
| YR 8 GIRLS HIGH JUMP | Sasha Harrold | | 1 | |
| YR 9 GIRLS HIGH JUMP | Aline Gahime | 1 | | |
| YR 7 GIRLS SHOT PUT | Serenite Isungapala | 1 | | |
| YR 8 GIRLS SHOT PUT (3kg) | Angel Gillam | 1 | | |
| YR 9 GIRLS SHOT PUT (3kg) | Hermione Kelly | | | 1 |