Textiles
Overview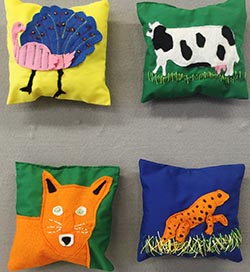 At Key Stage 3, pupils receive fifteen double lessons each year in Textiles. The department aims to provide opportunities for pupils of all abilities to gain confidence acquire useful skills and techniques and make high quality products. Through a variety of practical activities, pupils develop their fine motor skills which are vital for all areas of the curriculum and impact on daily life. The projects also help to develop pupils' understanding of the properties of materials and how to apply this understanding when designing with textiles. We are lucky to be such a well-resourced department which facilitates pupils being able to work independently and explore ideas creatively.
Textiles at Key Stage 3
In year 7 pupils learn how to safely control and use a sewing machine independently and produce a small decorated cushion. The project involves: being able to produce a range of stitches, design tasks and model making, an introduction to some surface decoration techniques with the machine and by hand, an awareness of natural fibres, developing graphic awareness to read and produce sequenced diagrams to communicate ways of making products, and evaluating products to make improvements.
In year 8 pupils learn about the idea of context to influence the look of a project and through a variety of surface decoration techniques they are introduced to the Pop Art and Impressionist art movements. The project involves: learning and practicing batik and dyed work, extending embroidery and laid work skills and continuing to develop their awareness of using the machine to create their own embroidery stitches. The importance of accurately using transferable maths skills and concepts is embedded in the production of the product, a tote bag with a decorated panel inspired by the artist Claude Monet.
The following websites are useful: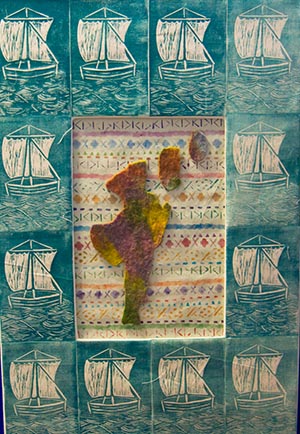 Textiles at Key Stage 4
At Key stage 4 students will attend 6 lessons a week for a year. They will need to meet the four assessment criteria for the GCSE which are:
Assessment Objective 1
'Develop their ideas through investigations, demonstrating critical understanding of sources;'
These are the 'stimulus, influences or other references' that you brought to the project.
Assessment Objective 2
'Refine work by exploring ideas, selecting and experimenting with appropriate media, materials, techniques and processes'
What samples/ experiments/ practice pieces have you done to help you decide how to do your final piece?
Assessment Objective 3
'Record ideas, observations and insights relevant to their intentions in visual and /or other forms'
How have you shown what you are doing or worked out your ideas?
Assessment Objective 4
'Present a personal and meaningful response that realises intentions and demonstrates understanding of visual language'
This is your final piece. There might be elements through your journey to this place which will be considered final pieces
The course is assessed in two parts: 60% coursework and 40% timed assessment.
The coursework will be a compilation of all the projects completed during lessons. The timed assessment will be a 10 hour exam over two days where students produce a piece of art work with eight weeks preparation time. There is no written exam.
The projects undertaken during the course will incorporate all elements of the assessment criteria and are embedded with observational drawing, painting, taking photographs and learning new techniques like: quilting, felt making, print making using stencils and lino cuts, collage, free embroidery and resist dye work.
Through experiences of working with others in the creative fields and highlighting career opportunities related to Textiles Art and Design, we seek to broaden the ambition of our students beyond Key Stage 4 towards their future education and careers.
Study at Home for KS4
It is very important for Key stage 4 students to visit galleries and museums because cultural understanding contributes to the final GCSE grade. When visiting the galleries they should take a sketch book and draw or write about the work that interests them.
The websites listed above will continue to support work in KS4.
Free museums and art galleries in London
Contact
Please contact the Head of Art and Technology, miranda.harris@egas.islington.sch.uk, if you would like more information about the course.